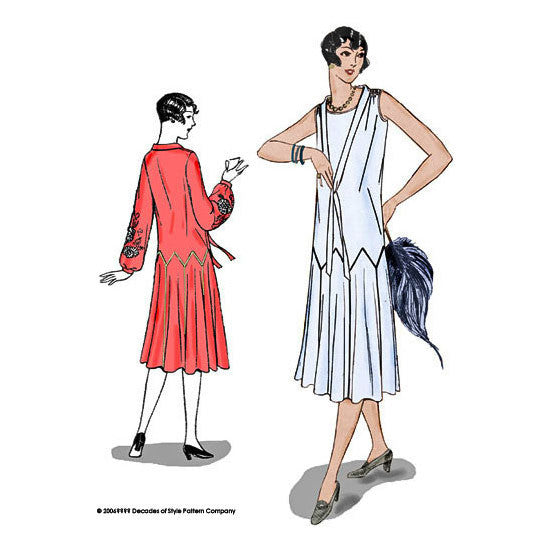 #2502 1925 Zig Zag Dress
Printed pattern $20/ PDF Pattern $16 -  Every woman needs at least one GREAT summer dress. And this vintage pattern from 1925 is it! It also makes the perfect winter dress if you make the long sleeved version.
It is a loose fitting, sleeveless pull over dress with a rounded or V-neck line. The shoulder seam falls forward on the Front Bodice just a bit with gathers there instead of a bust dart. A long Tie finishes the back neck edge and provides an elegant design detail.

The eight-gore skirt is where the dress really shines. Each gore has a pointed top and creates a zig zag line at the hip where it attaches. It is flared and moves like a dream. We love this pattern and we think you will too!

We recommend dress weight fabrics in the fiber of your choice. There is 6" of ease at the bust and 4" at the waist. There is 2" of ease at the hip but the zig zag shaped seam provides more ease than that.
3 sizes included in pattern. Must choose size range to purchase.
PDF pattern is for 46, 49 or 56 sheets of Letter or A4 paper (Sizes A, B or C respectively) and includes a Copy Shop file for A0 paper (2 pages Size A, 3 pages Sizes B-C).