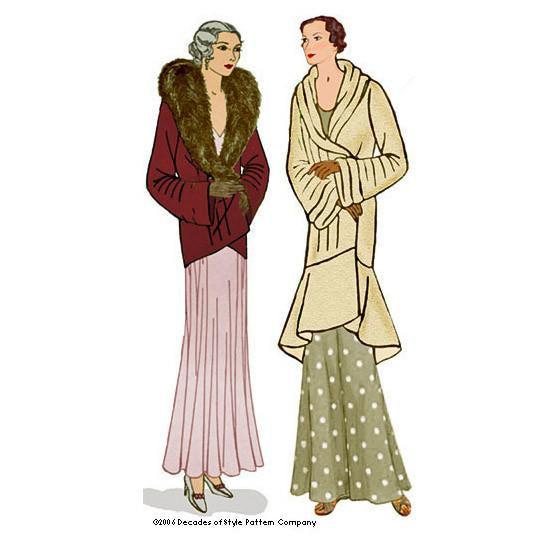 #3101 1930s Parisienne Coat
Printed pattern $24/ PDF Pattern $16 -  
Just look at this coat! It is nothing short of stunning and versatile too! Yet again, we can see this vintage garment fitting easily into either formal or casual situations depending on the fabric you use. This vintage pattern from 1931 was based on a French couture garment and the design has stood the test of time.

The coat is unlined and has a series of shaped tucks on the sleeve that add extra panache to the elegant bell shape of the sleeve. It has a clutch closure in the front so the coat has lots of ease around the body. The shoulders and sleeves are a more true fit (so don't downsize or it might end up being to tight for your liking.) The over sized collar can be made from contrasting fabric like faux fur. There is an optional flounce for the bottom edge.

You will want to use a medium to light weight fabric especially if you're making the view with the flounce. It is all about the drape! For a more formal garment, we recommend velvet, satin or even lightweight brocade. For an everyday version, we suggest rayon, tencel, linen, silk, lightweight wools or any fabric that has a decent drape to it. We have even sewn in a sheer and it is absolutely divine!
3 sizes included in pattern. Must choose size range to purchase.
PDF pattern is for 45, 49 or 56 sheets of letter or A4 paper and includes a Copy Shop file for A0 paper (2, 3 or 3 pages).