Ophelia Overalls Sew Along Part 1: Fabric and Fit February 13 2019 1 Comment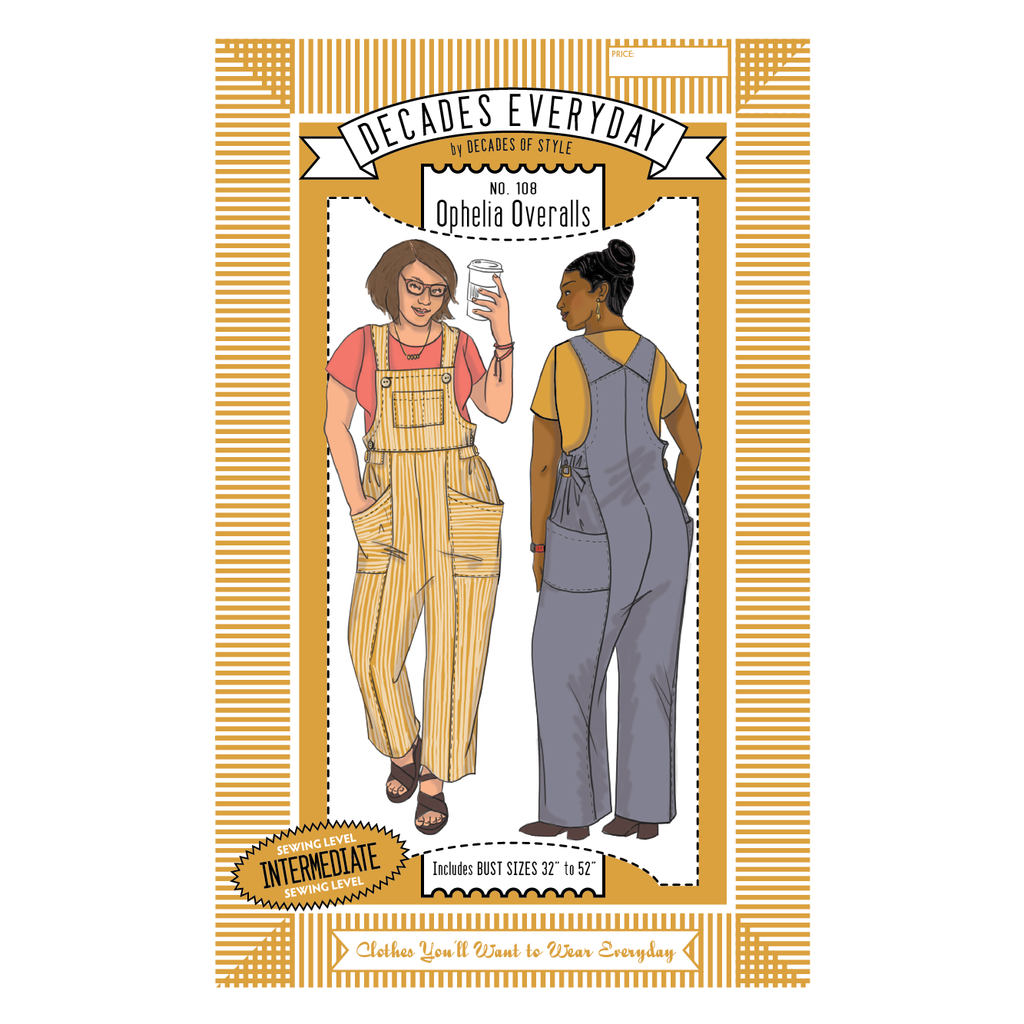 Hi all! Welcome to the Ophelia Overalls Sew Along! This is just going to be an introductory post covering fabric choice and the fit of the pattern so we can hit the ground running next time in the construction. 
The main thing to keep in mind when selecting your fabric for this project is to avoid anything too heavy or too bulky! Look for a bottom weight fabric that is either mid to light weight and has a stable weave. 
It all sounds a little bit wordy but that's what works best with this pattern. You need something substantial enough to be considered a bottom weight fabric (something that can handle that abuse sustained by pants) but it can't be super heavy. No heavy weight or super bulky denim or canvas. The construction uses a faux flat felled seam so there are places where you are stitching through quite a few layers.  If your machine has the clearance and the pressure to handle 4-6 layers of heavy bulky fabric, then no problem; but many domestic machines will struggle with that load. So keep this in mind. 
The suggested fabrics are: Stable bottom-weight woven fabrics are suitable. Avoid very heavy weight fabrics. Light weight denim, twill, light weight canvas, poplin, gabardine, corduroy.
If you are going to choose corduroy,  a smaller wale is best.  And it might be a good idea to get a bit extra in case you want to play with how you cut that trouser pocket. We used a 14 wale for this sew along and it was lovely! (14 cords per inch).
If you want to go with a lighter weight, looser weave fabric like a chambray or linen, it will work fine but you will most likely need to support the straps by using a double layer of fabric or flat lining the strap pieces with something stable like muslin or quilting cotton.
 And speaking of the trouser pocket, it is cut on the cross grain in the pattern. It is a big, awkward pattern piece so if you desire the pocket on the straight of grain, purchase extra fabric (1/4 yard extra should do it). A striped fabric is a very fun choice because of the princess seams and the possibility to play with the grain line! We rotated the grainline on so many pieces in this sample, we can't really keep track of it all.But just look at the result! Purchase extra fabric if you want to play around with rotating the pieces.
Let's talk about the fit now. These overalls have a very relaxed fit! There's 5" of ease in the hip. That's a lot of ease but not overwhelming.
That much ease preserves a vintage look from both the early century (as shown in this  WW1 era photo of ladies delivering ice) and later into the 30s and 40s. 
 If your body measurements fall between sizes, using the smaller size will be fine. A number of our pattern testers decided to go down a size from what their body measurements corresponded to. This will result in a closer, more modern fit. You'll end up with 3" of ease in the hip which is standard. Kathe's overalls are fitted with very little ease and they look great!
Just a reminder that this pattern has been drafted for a B cup. If you need to make adjustments because your cup size is much larger, your options are lengthening the straps and/or making the bib taller and wider as you desire. On this particular pattern, it's not very scientific - it just means a bit of trial and error work with scrap fabric.
Whatever adjustments you make to your Bib, make the same adjustment to the Bib Pocket and Bib Facing! It is a smallish space and the Pocket to Bib proportion gets thrown off very quickly! 
Lengthen or shorten on dotted line for Bib, Bib Facing and Bib Pocket.
The best way to make your decision which size you prefer is to make a muslin! We really recommend making a muslin! Making a muslin is the best way to address fitting issues and achieve a finish garment that is successful! In summation, we really recommend making a muslin! Seriously though! We can't emphasize enough how making a test version will save you time and money in the end and help you achieve the best results possible. 
Click here to purchase the pattern.
Okey-doke! See you next time where are the sewing will commence!
---