TLC Sew Along Introduction - Fabrics and FBA May 03 2018 2 Comments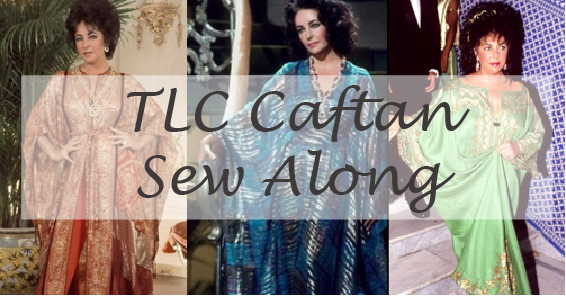 Are you ready to embrace your inner Elizabeth Taylor caftan-wearing-diva? Well, even if you're not, the TLC caftan is the perfect summer dress in the shorter length and a true statement piece in the full length. Whatever your preference, we're going to take you through a sew along to get you there. If you haven't got your copy of the pattern yet, click on the image below to shop!
Let's talk about fabric first. The list of suggested fabrics is: 
Mid- to light-weight fabrics with a soft drape most suitable: light- weight linen, lightweight ikat, lightweight chambray, double gauze, gauze, voile, lawn, silk noil, crepe, rayon challis. More challenging fabrics are georgette, charmeuse, or silk velvet.
There many more fabrics that aren't on this list that would be suitable. The important aspects to consider are the weight and the drape. Stay away from anything too heavy or too stiff. Any fabric that is soft-ish and mid to light weight will work. This garment is actually a good one for stash busting in spite of the daunting yardage requirements. The yardages in the chart err to the side of too much. If you have something in your stash but are 1/2 yard or even a full yard (or more) short of the suggested yardage, pull it out anyways because there are design opportunities to be had!
The largest pieces are rectangular and easy to alter. The yardages are based on the largest size in the grouping and include the bias binding strips and pockets. This means there's a good chance you can squeeze the main pieces out of 1/2 yard less than the recommended yardage. You can supplement with other fabrics for the pockets and bias strips if necessary.
If you still come up short, don't give up yet. Consider shortening the finished length. View B, the short version, is still pretty long. The finished length at the center back is approximately 40".  You could shorten the Side Panel and Skirt pieces by 4", 6" even 10" and squeeze your pieces onto a shorter cut of fabric. Shortening View B by 10" gives you a tunic length caftan that is pretty darn cute!
Either go with a shorter length OR add a fabric border at the bottom of the shortened pieces to make up the length. You can use up yard-long pieces in your stash to make a fabric border depending on how deep you want the border to be.
 The other option if you are short on yardage is piece to fabric block the pieces! There are any number of options depending on your yardages. So instead of needing a 4, 5 or 6 yard piece, you can split that up to shorter yardages of several pieces of fabric. CREATIVE OPPORTUNITY! And stash busting potential galore! 
3 yards will do for View A Side Panels
1 1 /4 yards will do for the Side Panels of View B
3/4 to 1 1/4 yard pieces will do for the Bodice pieces depending on the size you're making.
2 yards for View A Skirt pieces
1 5/8 yards for View B Skirt pieces
Some fabric blocking options below show you just a few combinations that you could do. There are no rules so you mix and match and have fun with it!
 Now lets talk about fit. If your measurements fall between sizes on our chart, you can go to the smaller size on this pattern with no worries.
As with all our patterns, the bodice is drafted based on a B bra cup size. If you are a D cup or larger (C cups will probably be fine straight off the pattern), it is easy to do a quick Full Bust Adjustment or FBA. If you are new to the concept of an FBA - we highly recommend the FBA tutorial at the Curvy Sewing Collective . 
To do an FBA on the TLC, all you need is the Bodice Front Piece. Mark the Bodice Front pattern for slashing (shown by red lines below).
Next, spread the desired amount according to the CSC tutorial.
Redraw the adjusted adjusted piece. There is now a side dart on the Bodice Front piece. 
The FBA lengthens the front neck edge. This will probably make the neckline gap there. To avoid gapping, shorten the front neck edge. The simplest way to do this is to slash from the front neckline edge to near the square reference mark (slash line in red on image on the left.) Overlap edges at the slash until the front neck edge is about 1/2" shorter. Red line is shows adjustment on the right.
Ok! That's it for now. Find some fabric and cut out your caftan. We'll see you next time to start sewing.
---